Our Services
Still Waters Wellness offers proven methods to reduce pain associated with:
Physical Issues
Poor circulation
Neuropathic pain
Wounds
Surgery
Fall prevention & recovery
Chemotherapy
Chronic pain - joints, tissue, headaches
Lack of progress in therapy
Resistance to care
Respiratory
Digestive
Stroke
Mental/Emotional Issues
Anxiety/fear
Depression
Anger/Frustration - including combativeness
Grief, loneliness
Family Dynamics
Agitation
Cognitive decline
Dementia
Pain-induced stress
Isolation
Psychiatric/Mental Illness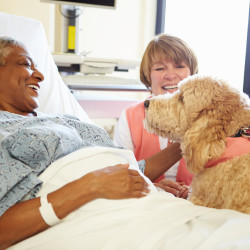 Click on each tab to learn about the service that will be available at your site.
Bowenwork is a non-invasive, over-the-clothes technique.  With sets of specific gentle, rolling moves, this work activates the body's para-sympathetic response, resetting and releasing muscle holding patterns and releasing trauma held in the body.
Bowenwork can be administered to someone on a massage table, while lying in bed or sitting in a wheelchair.
Benefits from Bowenwork include:
Pain & stress reduction by inducing a parasympathetic relaxation response
Increased utilization of medications, faster 'kick-in' and reduced 'off' times
Increased energy levels
Better sleep
Improved bowel and bladder health
A greater sense of well-being
We can train your staff in Bowenwork techniques with our "Bowen Basics for the Medical Professional" class.
We have our own four-legged staff members who are full of unconditional love and offer well-behaved companionship.  The "Plus" indicates that while the patient is interacting with the dog, we are able to offer Bowenwork or Reiki simultaneously.
Although Pet Therapy Plus is well-received and available to everyone, it is specifically designed to reach those are reclusive and resistant to other methods and forms of contact.
Anodyne Therapy Systems (ATS) are Class II, FDA-cleared, over-the-counter medical devices that have been the subject of over 20 clinical trials.  Sample results of a few of those studies:
reducing fall rates by 96%,
93% improvement in Tinetti scores,
reduction of pain by 67%,
significantly reduced wound healing times & amputations avoided
How does it work?
Near Infrared light is delivered topically through the skin at 890 nanometers.  This wavelength induces a release of nitric oxide from the blood, reducing pain and increasing circulation locally.
Reiki is a light-hands or off-the-body technique that has been shown to provide relief from stress, pain, anxiety, & depression.  It supports the immune system and can improve healing times for wound care.
It is particularly helpful for calming anxiety associated with memory disorders and residents under hospice care.
Reiki is appropriate for anyone from the highly active to the bedridden.
We can train your staff, residents and/or resident's families in Reiki healing techniques.
Using therapeutic-grade essential oils, we can set up an aromatherapy program for group spaces and for individuals.  Some of the ways that aromatherapy can help:
reducing agitation, improving mood
increasing or reducing appetite
reducing depression, improving mood
infection control
We use only pharmaceutical grade essential oils from Young Living Essential Oils.
Rapid Eye Technology (RET) is a trauma recovery technique that supports the limbic system (where our "fight, flight, freeze" response originates) to properly file traumatic events so that sufferers can eliminate flashbacks and traumatic responses to every-day events.
RET reduces trauma-induced stress which can immediately improve mood, relationships, sleep and even the experience of physical pain.
Emotional Freedom Technique is a simple, yet effective form of meridian tapping to reduce negative emotional responses and traumas.  EFT can be used on-the-spot, under almost any circumstances. It is easy to learn and self-apply for most all populations.
EFT can be used in groups (for both residents and/or staff).  EFT is effective even for those with cognitive decline.
We can both administer EFT and train your staff, residents and residents' families.
"My feet have never felt so good. They always hurt, but they don't now." (Chronic plantar fasciitis, injections were no help, still pain-free at follow-up six weeks later)

,

"My whole week after I saw you was so PRODUCTIVE!  It felt so good to get things done! Thank you!" (Nursing staff)

,

"I've had this sciatica for months.  10 minutes of this treatment and it's GONE. I almost don't believe I ever had it." (Resident)

,

"I don't feel as scared.  There's a peace for me about it." (Patient facing big decision)

,